This afternoon, we took all the children on an adventure to the farmer's market. We were looking for something to do on a Saturday afternoon, something we'd never tried before, something that didn't cost a lot of money and something that would be a neat experience for all the kids even with the variety of ages we have...the farmer's market was perfect! In fact, I have a whole post full of pictures coming soon. The reason I'm posting right now is because...I found an interesting sign at the market. And I just HAD to follow it.
Here it is
And of course, after I walked in, I came right back out...with this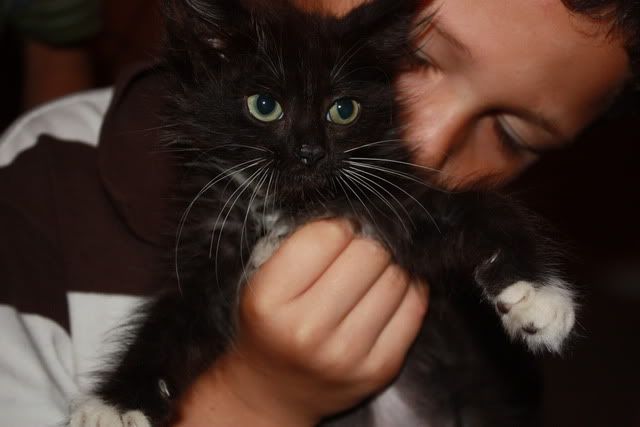 Albert tried in vain to protest...but when he saw her cute little face, and maybe mine too...he couldn't resist. And as it turns out, our new addition seems quite attached to him! This is how our new little kitten made herself comfortable while Albert was playing PlayStation tonight with the boys! She looks right at home...
So now we need a name for her! You all know how much I like to pick out names for things- babies, puppies, kittens...heck, even plants. So far our kids have come up with Raven, Piper or Duces. Raven and Piper are definitely contenders. Duces...not so much. Lend us a hand and help us come up with a name for our new little sweetie! I don't wanna keep calling her Kitty...or Cat...or girl.